[et_pb_section transparent_background="off" allow_player_pause="off" inner_shadow="off" parallax="off" parallax_method="off" custom_padding="0px|0px" padding_mobile="off" make_fullwidth="off" use_custom_width="off" width_unit="on" make_equal="off" use_custom_gutter="off"][et_pb_row][et_pb_column type="4_4"][et_pb_text admin_label="Text"]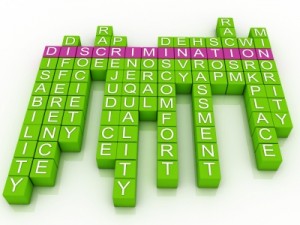 In the case Richardson v Oracle Corporation Australia Pty Ltd the judge has ordered $130,000 in compensation. Previously, in sexual harassment cases compensation has ranged from between $12 - 20,000.
What can small and medium size business do
1. ensure that you have a harassment policy
2. train your employees in this policy
3. actively enforce the workplace
If you are interested and wish to review the case please follow this link below.
Richardson v Oracle Corporation Australia Pty Ltd
If you are interested in reading the entire article please following the link below.
Landmark ruling alters harassment compensation landscape - HR Daily
Photo Courtsey - David Castillo Dominici - "3D image Discrimination in a Word Cloud.
[/et_pb_text][et_pb_text admin_label="Tag Cloud" global_module="1581" background_layout="light" text_orientation="left" use_border_color="off" border_color="#ffffff" border_style="solid" custom_padding="||0|" module_id="tagspace" saved_tabs="all"] Tags
[the_tags][/et_pb_text][/et_pb_column][/et_pb_row][/et_pb_section]