[et_pb_section transparent_background="off" allow_player_pause="off" inner_shadow="off" parallax="off" parallax_method="off" custom_padding="0px|0px" padding_mobile="off" make_fullwidth="off" use_custom_width="off" width_unit="on" make_equal="off" use_custom_gutter="off"][et_pb_row][et_pb_column type="4_4"][et_pb_text admin_label="Text"]
Each and every business owner has their own set of values and expectations. These values shape the way you work and how you want or need others to work with you. When your business grows to the point where you need extra help, start with a good foundation to build a team from. This goes for solopreneurs, entrepreneurs or even those reaching for the corporate world.
Here are five tips for building that foundation.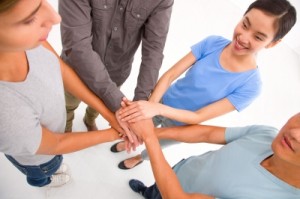 1. Plan your team
Think about what you need the most - where do you need the most support, this in turn will help you set up your organisational structure. When a small business begins expanding, they need generalists who can tackle many things fairly well. As you grow, you may need people who have more expertise in specific areas e.g. marketing or finance. Think about this at every step. A common mistake is hiring someone without thinking whether their skills and strengths are what you actually need.
2. Get the culture right
If you're in a small team, you need to ensure the person you are adding to the team aligns with your business values. Skill and ability is great, but if the values of the two parties don't match, you could run into significant problems in the long-term.
3. Manage your team members
You know the saying "There is no I in team." Make sure you manage team expectations from the very beginning. Never assume that everyone is on the same page. "Professionalism" may be understood differently from team member to team member. Keep in mind not everyone has the same training or background as yourself. One tip is to run a workshop where the team hashes out their own sets of definitions and values.
4. Don't recruit too many of the same personalities
It is not unusual for managers to recruit similar personalities in the team. But this creates an imbalance. Try and recruit a diverse range of personalities – creatives, analytical people, natural leaders, managers, organisers and advisers. Together, they add value to your business in ways you may never have imagined.
5. Make informed decisions
If you're desperate to recruit because you're overloaded, you might be tempted to hire "anyone" even if they aren't the right fit. If you find the right person but they can't work full-time, offer alternatives such as a fixed-term contract or flexible working hours.
[/et_pb_text][et_pb_text admin_label="Tag Cloud" global_module="1581" background_layout="light" text_orientation="left" use_border_color="off" border_color="#ffffff" border_style="solid" custom_padding="||0|" module_id="tagspace" saved_tabs="all"] Tags
[the_tags][/et_pb_text][/et_pb_column][/et_pb_row][/et_pb_section]