We live in unpredictable times. On one hand, many workers are struggling to balance home working and family commitments during COVID-19. On the other, productivity is up for a significant portion of home workers who are now free of office distractions!
With some workers also transitioning back to workplaces, employers are now faced with the delicate task of balancing both remote and on-site working. The challenge will be different for every worker, so flexibility is key. Embrace this unique opportunity to get to know your workers better – and boost employee engagement.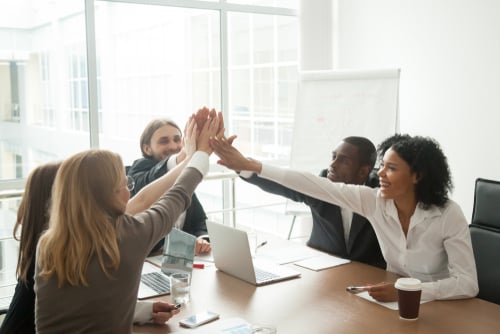 Here's how.
Put safety first
If employees are returning to the workplace, ensure your procedures are up to speed. There are some great resources from Worksafe and the National COVID-19 Coordination Commission designed to help you protect your workplace and staff. By planning a safe return to work, your people will know you are looking out for them. You demonstrate that you are a caring, responsible employer who wants to do the right thing.
Talk to your employees
The recent surge in unfair dismissal cases has been exacerbated by employees' anxiety about money drying up and some employers using the pandemic as an excuse to shelve unwanted workers.
Be open, honest and transparent in communicating with your employees. HR consulting can help reduce your exposure to unfair dismissal claims – and build a stronger, more engaged team.
Listen to employee concerns
Provide your employees with up to date policies they need to stay safe. However, don't forget to listen and learn in real time – in a real way. Encourage feedback from your staff, on any issue, and be responsive to the concerns and anxieties arising from the massive changes taking place in their lives. Remember these are unprecedented times for everyone.
Find time to check in with each worker individually to monitor their progress and mental health. Give employees the opportunity to talk to you one-on-one and anonymously about anything bothering them. Consider running a survey on how people are feeling and what their concerns may be.
Empower employees and focus on outcomes
Encourage workers to self-regulate in their home environment. This gives them the space they need to walk, take computer breaks and clear their heads.
Home working is not a new concept, but it may well be a completely new experience for many of your people. Supporting them as they find their feet will give them a sense of value, autonomy and trust. Home working can be a great business boost if you empower your employees. Some of our clients have reported increased productivity and efficiency, while employees are enjoying fewer distractions while working from home.
Look to the future
Avoid getting so caught up in the moment that you neglect the bigger picture. What you do now will inform your business future.
Find ways to keep your business relevant in the pandemic.
Set positive long-term goals you can all work towards.
Stay focused on outcomes.
Look at new ways to integrate working models into your business to capitalise on improvements.
Unite workers with online games, remote lunch meetings and birthday celebrations.
Keep innovating!
And reach out! A professional HR consultant can give excellent small business HR advice in difficult times.