[et_pb_section][et_pb_row][et_pb_column type="4_4"][et_pb_text admin_label="Text"]
We've had a lot of requests to begin a blog post series covering policies. The first cab off the rank is one policy that every business should have in place: bullying. Its estimated bullying costs Australian business between $6 and $36 billion per year. Bullying and harassment can occur in any industry, organisation and workplace – it is not selective. So firstly, what is bullying behaviour?
Behaviour is considered bullying when:
It is repeated;
It is unreasonable;
It may be directed at either individuals or a group of employees, and;
It is a risk to health and safety.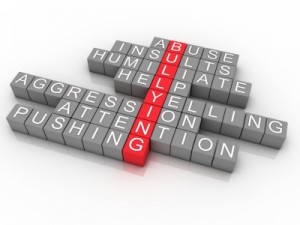 There are many examples of bullying or harassing behaviour. These include, but are in no way limited to;
aggressive or intimidating conduct;
belittling or humiliating comments;
spreading malicious rumours;
teasing, practical jokes or 'initiation ceremonies'
targeted exclusion from work-related events;
unreasonable work expectations such as too little/too much work, or work that is beneath or beyond one's capabilities;
displaying offensive material, and;
undue pressure to behave inappropriately.
[Source – FairWork Anti-Bullying Guide, www.fairwork.gov.au ( click here for the precise link):
Performance management vs. Bullying
A question we frequently field is: "What if I'm performance managing one of my employees and they accuse me of bullying?"
The legislation states a manager or employer is not bullying if your management is considered reasonable. You may manage poor performance, take disciplinary action and direct the way work is carried out without being accused of bullying or harassment.
Everyone on site is covered by bullying policy
All workers on your site are covered by your workplace bullying policy. This includes sub-contractors and their employees, students on work experience, volunteers, apprentices and workers from labour hire or temp agencies.
Bullying: the hidden costs
Bullying costs Australian businesses up to $36 billion per year. Its important remembering that bullying can affect an individual's health, family, and their ability to work. (Source – Productivity Commission). On average it can costs organisation anywhere from $17,000 to $24,000 per claim..
The final word on bullying
Everyone has the right to a bully free workplace. Businesses may ignore signs of workplace bullying at their peril. Claims may leave you $17,000 out of pocket at the very least. If you are unsure, we as HR professionals can clarify any points you're having trouble with.
In our next blog, we look at what you can do to minimise the risk of bullying occurring in your workplace. Be sure to subscribe to our mailing list so you're notified of all our posts and news!
[/et_pb_text][et_pb_text admin_label="Tag Cloud" global_module="1581" background_layout="light" text_orientation="left" use_border_color="off" border_color="#ffffff" border_style="solid" custom_padding="||0|" module_id="tagspace" saved_tabs="all"] Tags
[the_tags][/et_pb_text][/et_pb_column][/et_pb_row][/et_pb_section]